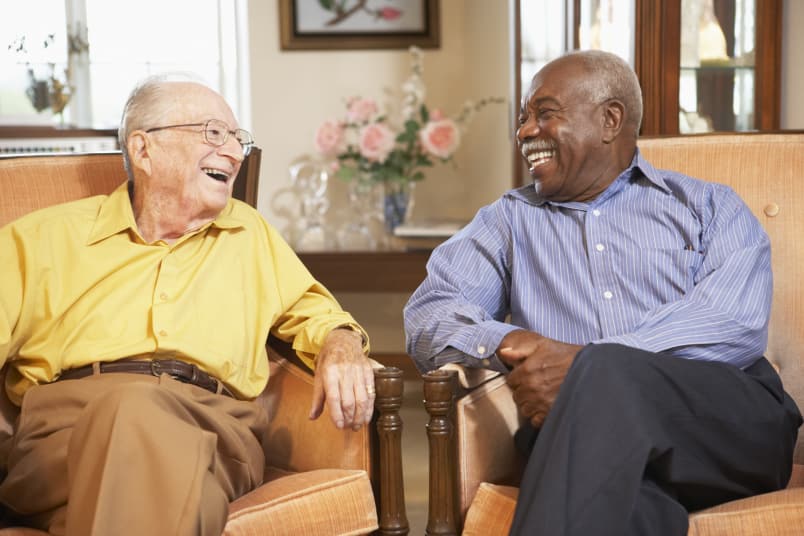 Memory Care in La Mesa, CA
Connections for Living by MBK℠
Our Memory Care neighborhood and program at The Montera is designed to provide compassionate and nourishing everyday support for people suffering from Alzheimer's disease and related dementia, as well as for their families. We understand that the whole family is deeply affected by a loved one living with memory loss, and that connection and joy are most attainable when everyone is cared for and engaged.
We start with an in-depth interview with everyone to get a feel for a resident's preferences, passions, and needs, so that we can collaborate on a personalized care plan to address an individual's unique situation. Our Memory Care professionals continue to build relationships, enabling them to interpret changes in behavior in ways that translate to appropriate care. In this way we foster deep communication that works beyond simply using words. 
For the family, we are proud to offer our TLC program, which stands for teaching, learning, and connecting. Through family nights, volunteer opportunities, information sessions, and ongoing communication about the wellbeing of their loved one, we give families a path for creating and nurturing meaningful bonds in the Memory Care community. We also refer families to additional resources that can help support them as they travel this road.
Our Memory Care neighborhood is made up of cozy, secure studio living spaces and attractive shared spaces, decorated with soothing color schemes and sensory cues to help residents recognize and navigate their environment with confidence. Inspiration stations also work to boost self esteem and bring joy to everyday interactions. With respect, compassion, and enthusiasm, our Connections for Living Memory Care neighborhood provides a warm, comfortable place that feels like home.
Memory Care Services
24-hour Professionally Trained Caregivers
Home-Like Environment With Exterior Patio
Daily, Weekly, & Monthly Activities To Promote Physical Wellness, Social/Family Engagement, Sensory Stimulation, & Personal Reminiscence
Inspiration Stations & Baskets
Secure Neighborhood
Assistance with Activities of Daily Living
Medication
Bathing
Dressing & Grooming
Bathroom Assistance
Escort to Activities & Meals
Assistance at Meals & with Snacks
Housekeeping, Personal Laundry, & Linen Service
Healthy Chef-Prepared Cuisine in Community Dining Room
Snacks & Beverages Always Available
Scheduled Transportation
Emergency Alert Response System
All Utilities Included Except telephone
Basic Cable Service
We look forward to sharing information about Connections for Living by MBK. Contact us to arrange a tour.