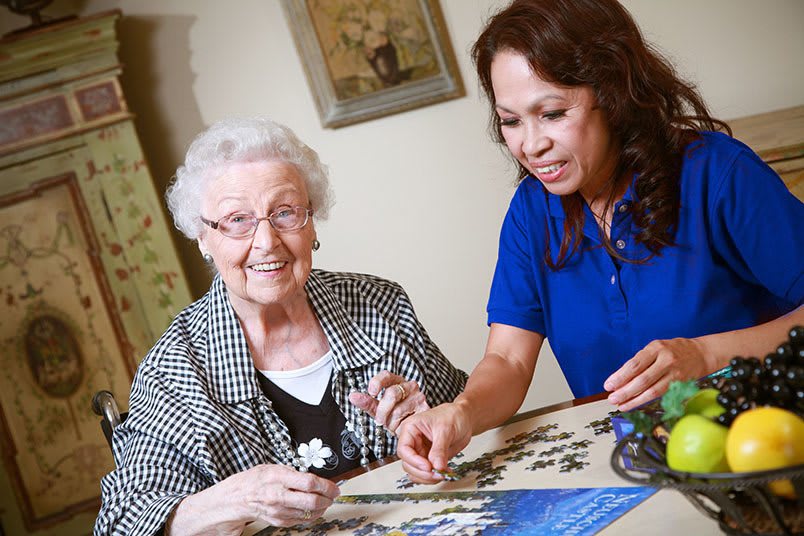 Hacienda Del Rey's Memory Care
Our Connections for Living Program
At Hacienda Del Rey we believe that the appropriate care for Alzheimer's and dementia should include the entire family or network, which is the basis on which we have developed our memory care program, Connections for Living.
Our program starts with an in-depth conversation with the Connections for Living resident and their family network. In our interview, we are eager to learn everything we can about your loved one, from their personal history to likes, dislikes, interests, and passions. This information helps us get the full picture of each individual, and with this, we are able to set them up for success in their new living arrangements.
Skilled & Sensitive Staff
We know that diseases that disrupt memory require caretakers with a specialized skill set in order to deliver the best care possible. For this reason, each caregiver is specially trained in the Connections for Living care and interaction process and have monthly team development and feedback sessions. This means each caregiver knows each resident, their likes and dislikes, and can greet them by name and meet their needs with a smile.
Connections for Living Services
Private Connections for Living Suites
24-Hour Professionally Trained Caregivers
Secure Home-Like Environment
Daily, Weekly & Monthly Activities to Promote Physical Wellness, Social and Family Engagement, Sensory Stimulation, and Personal Reminiscence
Inspiration Stations and Baskets
Daily Assistance with Medication, Bathing, Dressing, Grooming, and Bathroom Needs
Assistance with Meals and Snacks
Escort to Activities & Meals
On-Site Pharmacy Services
Housekeeping, Personal Laundry & Linen Service
Snacks and Beverages Are Always Available
Emergency Alert Response System
If you have any additional questions about our Connections for Living Program, give us a call today. Our friendly team would love to help answer any questions you have.