Memory Care That Makes a Difference at Seven Lakes Memory Care
High-quality, person-centered care. A warm and home-like environment. Exceptional programming. And the only senior living community in Colorado to be 100% certified as a "Dementia Friendly Leader." Seven Lakes Memory Care offers seniors and families unparalleled service and support that makes a difference. 
Located in Northern CO just 45 minutes from Wyoming, our Loveland, CO, memory care community is a viable option for Wyoming families for a number of reasons. As a specialized memory care-only community located in Colorado, we offer all-encompassing memory care with the ability to manage high levels of care without the need for skilled nursing. Personalized care in a secure senior living community setting is an easy drive from Laramie. Knowing your family member is cared for in a setting that feels like home—not a hospital—gives you the peace of mind that makes it worth the drive. The moment you walk through the door, you will feel the difference at Seven Lakes Memory Care.
With a layout that is designed to feel comfortable and familiar for those with dementia and Alzheimer's, our community is uniquely qualified to care for your loved on. We can manage numerous health conditions in-house, and if a condition is outside of our scope we can partner with home health and hospice caregivers to manage those needs.
Come see and experience our community. Click here to schedule a tour!
Health conditions that Seven Lakes Memory Care can manage: 
Two-person transfers/assists
bladder and bowel Incontinence
BiPAP, CPAP machines
Use of oxygen and inhalation therapies
Mobile X-ray and mobile labs
In-house podiatrist visits
Visiting Nurse Practitioner and MD
Therapeutic diets (soft, mechanical, pureed) with diabetic and vegetarian options available
Health conditions that may be managed with the support of home health and hospice: 
Diabetic management (blood glucose checks and insulin management)
Stage 1 and 2 decubitus ulcers
Wound management
PT/OT/speech therapy
Respiratory therapy
Catheter care
End of life care with hospice support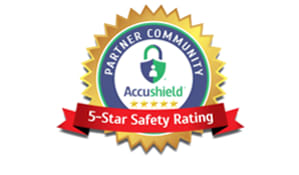 Is it the right time for Senior Living?
Learn more about your options and find the best fit for your care needs with this quick 4-5 minute survey.