MBKuisine
MBKuisine is our signature dining experience created to enrich the lives of our residents on a daily basis.
We start with nutritionally balanced seasonal menus and add a variety of always available favorite selections to choose from. Within the choices offered, there are also specific options for special diets and food preferences. Our experienced Executive Chef meets with residents on a regular basis to work on upcoming menu selections, share new ideas and receive input.
We recognize that an enriched dining experience can mean more than menu choices and differ from resident to resident. That's why we create the opportunity for you to select when, where and with whom you want to dine. Our MBKuisine teams take pride in getting to know what makes you happy and providing the kind of welcoming environment that 'feels like home'. We also embrace the chance to share our MBKuisine with your friends and family whether it is for a quick lunch during a personal visit, a special gathering in your community's private dining room or a fun seasonal event.
Some of the unique offerings within our MBKuisine signature dining experience include:
Sunday Champagne Brunch
Holiday and Special Occasion Celebrations
Sample Menus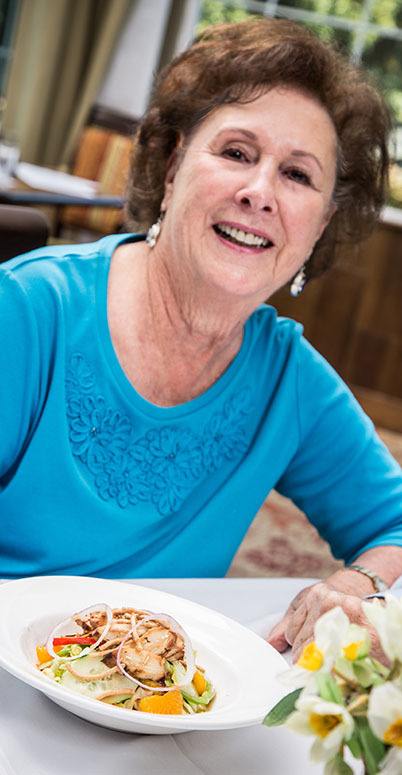 Meet the Chef: Larry Stearley
Many of our chefs have decades of experience and Chef Larry Stearley from our Oakmont Gardens community is no exception. With 30 Years of experience, Larry loves to incorporate different cultures when presented with the challenge of special themed dinners. Overall his biggest inspiration is the residents. He hosts a resident dining comittee and loves to chat with other residents in the halls for suggestions and ideas.
When asked what is his most popular menu item, he simply states, "Steak and lobster served on New Year's Eve."