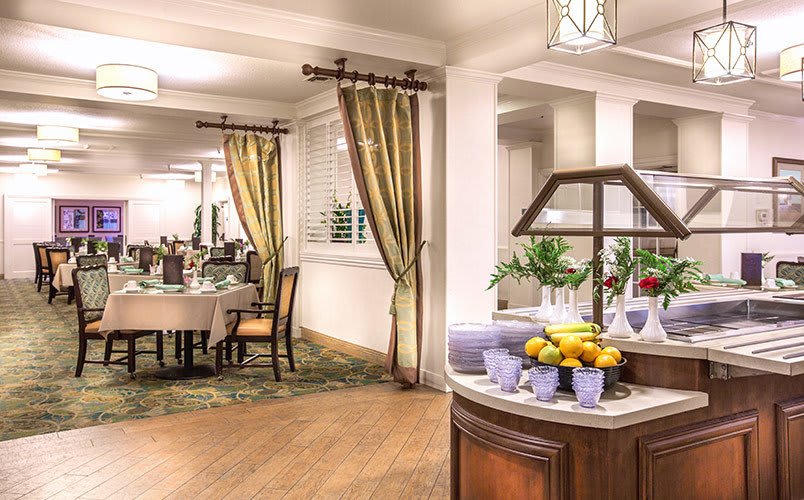 MBKuisine
MBKuisine is our signature dining experience created to enrich the lives of our residents on a daily basis.
We start with nutritionally balanced seasonal menus and add a variety of always available favorite selections to choose from. Within the choices offered, there are also specific options for special diets and food preferences. Our experienced Executive Chefs meet with residents on a regular basis to work on upcoming menu selections, share new ideas and receive input. We conduct resident tasting panels to garner feedback. Our Executive Chef Glen is well known throughout the Huntington Beach for his elegant dining displays and delicious dishes served at a variety of community events. He has also been a repeat winner at the Taste of Huntington Beach competition in the past few years.
We recognize that an enriched dining experience can mean more than menu choices and differ from resident to resident, That's why we create the opportunity for you to select when, where and with whom you want to dine. Our MBKuisine teams take pride in getting to know what makes you happy and providing the kind of welcoming environment that "feels like home". We also embrace the chance to share our MBKuisine with your friends and family whether it is for a quick lunch during a personal visit, a special gathering in your community's private dining room or a fun seasonal event.
Some of the unique offerings within our MBKuisine signature dining experience include:
Monthly Champagne Brunch
Holiday and Special Occasion Celebrations
Sample Menus


Meet the Chef: Glen Culbertson 
Chef Glen has the perfect experience for MBKuisine with a B.S. Hotel/Restaurant Management from Cal Poly Pomona and an Advanced Culinary Arts Certificate from the Culinary Institute of America at Greystone. He has gained experience in most everything in the culinary world; pizza cook, catering and banquets, wine assistant, fine dining, fast casual, plus assisting in opening new restaurants. "In senior living," he says "every experience you have ever had you can apply to the residents dining experience."
Most of the inspiration for new menu items in the community comes from the residents and their families. It is the MBKitchens job to make sure they are happy with the dining program, so if residents request it, they serve it. Chef Glen makes a point of getting every suggestion on the menu within two weeks. It has lead to some very interesting things: build your own enchilada bar, Brazilian BBQ, foie gras, build your own eggs benedict bar, and cooking whole pigs in the community just to name a few things.He discovers what my residents want by soliciting as much feedback as possible. Tell us what's good, what's bad, what you would like to try. The monthly food meetings, (which all of the residents and their family members are invited to) are a conversation about food and what and how they would like to see it done in the community. Every suggestion is put on the menu. Chef Glen enjoys serving something that a resident has always wanted to try. Whether they like it or not, at least they can say they tried it.
The most popular item at Huntington Terrace is the "build your own baked potato bar." Starting with large baked potatoes, followed by three different sauces to put on top, fifteen to twenty different fresh ingredients to add to your potato. The residents really enjoy being able to customize it as they like.
"One of the residents family members donated a Caja China. It is a box designed for cooking whole pigs. I am working on different recipes and service methods to make the accessible to the residents so that we can enjoy it more frequently."
There is an amazing amount of flexibility in the food program. All of the communities start out with the dietitian approved Crandall Menus, but They have the ability to add to it. This ability allows our chefs to offer all of the residents suggestions as well as bring in some of their own ideas. "From the point of view of a chef, it has allowed me to grow and become a better chef as now I am working with a wide variety of food items and techniques that I would not be if I was just working in one restaurant."