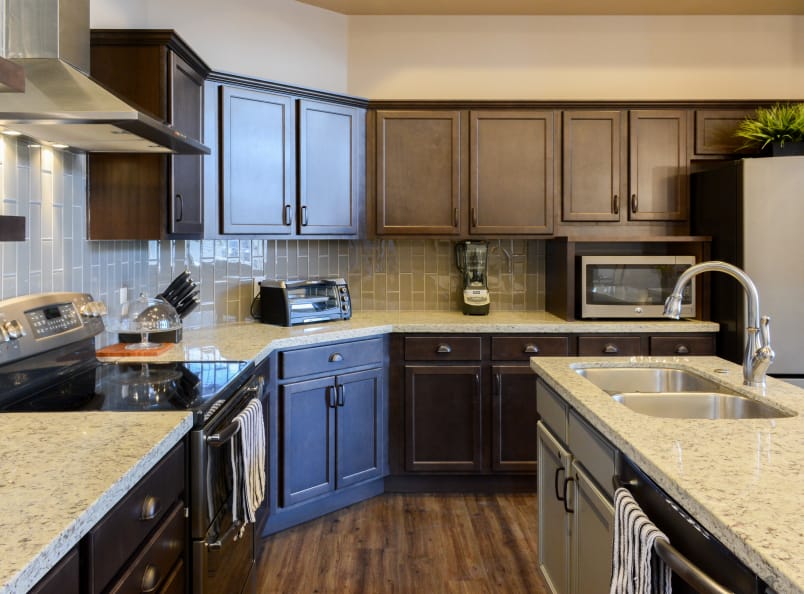 Comfortable Cottage Homes in Litchfield Park, Arizona
The way that we at Hacienda Del Rey have structured our housing options is unique, but it is reminiscent of a familiar, traditional housing arrangement. Our Litchfield Park, Arizona, senior community consists of nine cottage homes, with each cottage comprising 10 apartment homes. The residents of each cottage share a great room, dining room, modern kitchen, laundry room, and salon.
Hacienda Del Rey Floor Plans
We keep our floor plans sleek and simple at Hacienda Del Rey. Each floor plan consists of an open bedroom space, closet, and bathroom. Residents have the option of an apartment home with or without a shower as well. Each apartment is set within our cottage-style homes that have expansive community features to share and enjoy among friends. Socialize with your neighbors in the great room. Cook your favorite meal in the modern kitchen. If you are feeling like a new look, who wouldn't love having a salon right in your home? So whether a quiet afternoon reading a book in your room sounds great, or you want to catch up with new friends for a Sunday night dinner, the option is yours when you live at Hacienda Del Rey.
If you'd like to take a tour of Hacienda Del Rey, we'd love to show you around and help answer any questions you have. Call us today to learn more about our senior living community in Litchfield Park, Arizona.
In the interest of continuing product improvement, MBK Senior Living reserves the right to change floor plans and maps without prior notice. All renderings, maps, and plans are artist's conception and are not to scale. All square footages are approximate.