Healthy aging starts at any age. Here at MBK Senior Living, we support whole and healthy aging with a wellness approach that embraces body, mind, and spirit. We call it the Mind Body Konnection. The latest tools to help educate and guide residents toward complete wellness are a self-assessment test and a color-coded activities calendar. Customized for each community, this monthly schedule provides a menu that teaches residents how to achieve whole health.
How Healthy Are You?
MBK provides all residents with a wellness assessment to better understand how they're fulfilling whole-health needs and where they may need to focus. The assessment covers six aspects of wellness: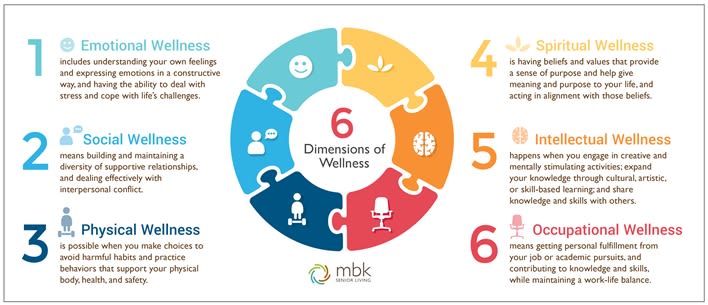 Click here to view a large, downloadable version of this chart.
Classes and Activities that Enrich the Mind, Body, and Soul
Based on the results of the assessment, residents can identify specific areas for improvement and can take positive steps to achieve wellness. That's where the color-coded calendar can help. If a resident would like be more active, they can easily identify and participate in the activities designed to promote physical wellness—be it water aerobics, tai chi, or an exercise class at the gym.
To enhance spiritual wellness, MBK Senior Living hosts religious services and provides ride to the church of choice. Activities such as afternoon socials, karaoke, and bingo encourage residents to form important connections with others. Arts and crafts, color therapy, and hand and arm massage provide emotional support. Residents intellectually thrive with art, writing, language, and history classes. Whatever activities they choose, residents are also taught to understand the reasons behind their choices: For example, walking 30 minutes a day decreases the risk of dementia.
No matter their stage of life, residents at all MBK Senior Living communities are encouraged to take advantage of the many activities provided and to practice wellness in each aspect of their lives. To learn more about MBK Senior Living's commitment to 360-degree resident care, please visit www.mbkseniorliving.com.